Australian people kept 'completely in the dark' on secret ministries: PM
At that same presser, Albanese was predictably asked about Scott Morrison's round of apologies today for taking on ministerial portfolios in secret, and just as predictably, didn't hold back.
The PM has been blasting his predecessor all week, and added today that he believed an apology was owed to the "Australian people".
The issue isn't whether an apology has been given to Mr Frydenberg, or Karen Andrews, or others. The issue is that the apology is owed to the Australian people.
The Australian people who were kept completely in the dark with this shadow government operating. And it's the Australian people who had their democracy that they hold dear undermined by the activities of the former Coalition government.
Key events
Show key events only
Please turn on JavaScript to use this feature
Littleproud also confirmed that he believed Morrison has "technically" breached the coalition agreement between the s and the Liberal party, but declined to press too hard on the point.
He said the "practical reality" of the situation was that because Morrison did not enact any of the powers he had, meant the agreement wasn't voided and the s still had their say:
The reality is a key tenant of our tenet of our Coalition is we respect the democratic institutions that ensure that the s are at the table.
The practical reality is because he didn't have to actually enact any of what he put in place, meant that it really continued on in terms of the s having their say in terms of decision-making.
While technically he has been by not advising not only us, but it's not really the s, I think it's the Australian people that should have been advised. We're here to serve them and they should be transparent with them about the actions we take as a government and particularly as a Prime Minister. It's the highest elected office that can be given in Australia.
It's important not necessarily about the s being upset, it's the fact the Australian people should have been taken into the Prime Minister's trust.
s leader David Littleproud has been busy today, appearing on ABC News this afternoon to discuss various issues, unsurprisingly including the former PM's secret portfolios.
Littleproud said he "sympathises" with the Governor-General, who he thinks did nothing wrong in signing off on the appointments:
And I sympathise with the Governor-General. He was put in a predicament he should never have been put in and that office is one that should be respected and honoured and I think the Governor-General has every right to clarify his actions and I think it would be inappropriate for anyone to cast any doubt over his actions during this.
He did everything within the Constitution as he's been asked to and I think it's important that office of Governor-General be respected by everybody in their dialings with them.
The s leader also said that the advice delivered by the Solicitor-General on Monday should be followed in a "bipartisan way" and that such appointments shouldn't happen in the future:
And it may be something the Solicitor-General provides advice on Monday when we get that report. I think it would be sage advice to follow and we should do it in a bipartisan way and we make sure that this, these events aren't mirrored any time into the future.
We learn from this and make sure those institutions of our democracy are respected and respected in every way in how they're carried out by the Government and by the Prime Minister and I think that would be important to see where that report comes from. If that report does give that advice, and the s will work cooperatively with the Government and the Liberal Party, to make sure there's a bipartisan approach to this.
Australian people kept 'completely in the dark' on secret ministries: PM
At that same presser, Albanese was predictably asked about Scott Morrison's round of apologies today for taking on ministerial portfolios in secret, and just as predictably, didn't hold back.
The PM has been blasting his predecessor all week, and added today that he believed an apology was owed to the "Australian people".
The issue isn't whether an apology has been given to Mr Frydenberg, or Karen Andrews, or others. The issue is that the apology is owed to the Australian people.
The Australian people who were kept completely in the dark with this shadow government operating. And it's the Australian people who had their democracy that they hold dear undermined by the activities of the former Coalition government.
PM rejects John Howard's suggestion Indigenous voice would be 'coercive'
The prime minister, Anthony Albanese, has hit back at former PM John Howard's assertion an Indigenous voice to parliament would be a "coercive" body.
Albanese told reporters he would advise Howard to look at the details of Labor's proposal, and to be aware of where the details of the proposed voice come from:
I'd say to Mr Howard to look into the details, look at the comments that have been made by constitutional lawyers, former members of the high court, and make it very clear that the voice is simply an advisory body that doesn't change any of the parliamentary processes.
This isn't my proposal or my structure and I said that in countless interviews … there was enormous detail, which was worked through by Marcia Lanton.
Covid summary: 135 deaths reported
Here are the latest coronavirus numbers from around Australia today, as the country records at least 135 deaths from Covid-19:
ACT
Deaths: 0
Cases: 384
In hospital: 129 (with 2 people in ICU)
NSW
Deaths: 43
Cases: 8,149
In hospital: 2,046 (with 54 people in ICU)
Northern Territory
Deaths: 3
Cases: 154
In hospital: 40 (with 1 person in ICU)
Queensland
Deaths: 20
Cases: 3,060
In hospital: 448 (with 21 people in ICU)
South Australia
Deaths: 12
Cases: 1,170
In hospital: 240 (with 8 people in ICU)
Tasmania
Deaths: 2
Cases: 444
In hospital: 59 (with 2 people in ICU)
Victoria
Deaths: 46
Cases: 4,416
In hospital: 497 (with 27 people in ICU)
Western Australia
Deaths: 9
Cases: 2,210
In hospital: 267 (with 7 people in ICU)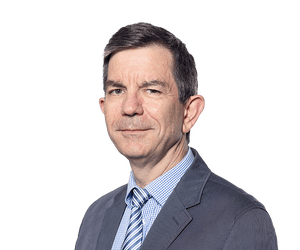 Peter Hannam
Aemo releases details of June electricity market suspension
More details on the impact of the June suspension of the Electricity Market have just landed, via the Australian Energy Market Operator (Aemo).
The Aemo says compensation claims by generators ordered to supply power into the market that covers about 80% of Australia's population totalled $114m.
A separate tab, the reliability and emergency reserve trader that paid energy users to reduce demand, came in at $76.2m for NSW and $3.7m for Queensland for the period.
Aemo's chief executive, Daniel Westerman, said the organisation continues to work with market participants "to process the associated costs required to avoid load shedding during the unprecedented events in the NEM".
The period leading up to and including the suspension of the NEM spot markets was one of the most complex and challenging that Aemo has experienced.
While the claims we've received are considerable in value, the total is well below external expectations, which is positive for consumers and market participants already facing challenging conditions.
Claims estimates reported in some media outlets apparently reached $1.7bn, or about an order of magnitude more than the final cost. (Just as well they were off, since retailers pass the tab on to us.)
Separately, Aemo has released an incident report on the market suspension detailing how close eastern Australia came close to rolling blackouts.
At one point prior to the suspension, Aemo staff were busy ordering about 10,000MW of capacity, or 17% of the NEM total, to switch on. It would have been quite a baptism for the federal energy minister, Chris Bowen, as we detailed at the time here.
NSW premier says he's prioritising flood recovery over NRL stadiums
Dominic Perrottet says he does not regret prioritising funding for flood victims over investment in NRL stadiums, after his move triggered a bidding war between NSW and Queensland for the grand final.
Although that war ended earlier today with the announcement Sydney would once again host the showpiece, Perrottet had earlier stood firm on his position when he appeared on Sunrise:
As premier of the state, I have to make decisions in relation to the priorities that we have in front of us, and we have many people up here in the Northern Rivers that are still not in homes."
I've got to make those decisions and set out the priorities for the government, but the offer we have made to the NRL I can assure you is completely reasonable.
It's a fair offer and it's a great event for our state, a great event for Sydney, which is where it should remain.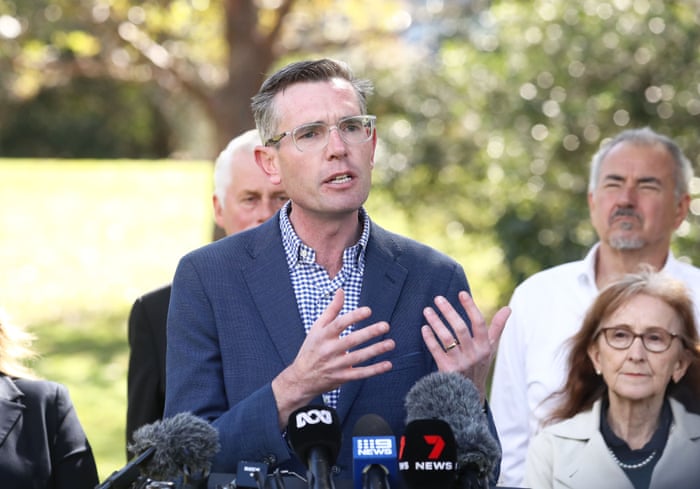 NSW premier Dominic Perrottet.
Photograph: Jason O'Brien/AAP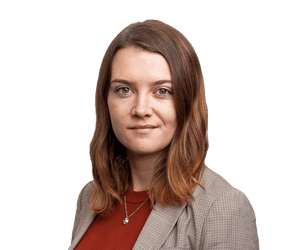 Eden Gillespie
Queensland police officers investigated over offensive Facebook posts
Seventy-nine Queensland police officers are being investigated regarding offensive Facebook posts which mocked domestic violence victims and implied police avoid responding to such incidents.
It comes after Guardian Australia reported the posts were made in a private Facebook group for current and former Australian law enforcement personnel.
The posts were made at the same time as public hearings in a commission of inquiry into Queensland police responses to domestic violence unearthed numerous allegations of a misogynistic culture within the service.
The inquiry heard on Thursday the police officer who made the posts is being investigated, along with 78 other police officers who had responded to them.
The officer, who is almost 50 years old and was sworn into the QPS in 2020, has a history of not complying with police operational procedures, the inquiry heard.
Last February, the officer failed to enter a domestic violence occurrence in police software, Q Prime and was dealt with through "local managerial resolution", the inquiry heard.
The officer also was investigated for posts on another police Facebook page in February 2021, along with 30 Queensland police officers who responded to the posts.
The inquiry heard 22 of those officers were disciplined via "local managerial resolution".
In August 2021, the same officer was also found to have not been wearing a body-worn camera when attending incidents.
"So he's presently under investigation and decisions have not yet been made about what happened to him for this particular instance?" counsel assisting Ruth O'Gorman asked.
"That's correct," the police commissioner, Katarina Carroll, responded.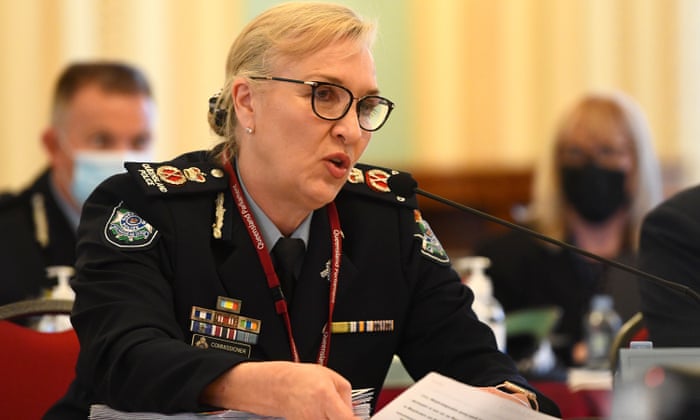 The Queensland police commissioner, Katarina Carroll.
Photograph: Jono Searle/AAP
David Littleproud criticises Scott Morrison over secrecy
s leader David Littleproud has added his voice to the criticism of former prime minister Scott Morrison's secret portfolios.
Littleproud was on 2GB earlier, and said Morrison had "no reason" to keep the appointments secret, adding that he agreed with Bridget McKenzie that the actions were in breach of the Liberals' coalition agreement:
It wasn't in agreement with what we have with the Liberals.
It should be transparent, not just with the s, it should have been transparent with the Australian people. That's the most disappointing thing about this.
There is no reason for Scott Morrison not to have told his colleagues, both and Liberal, but more importantly told the Australian people.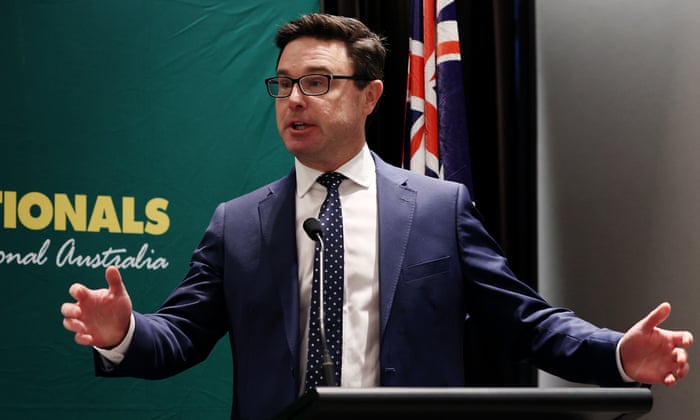 s federal leader David Littleproud.
Photograph: Jane Dempster/AAP
Good afternoon, Mostafa Rachwani with you this afternoon, and a quick thanks to Natasha May for her great work this morning.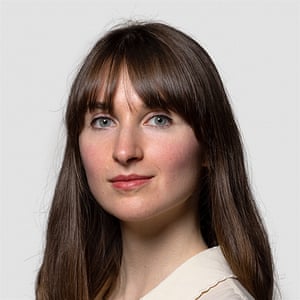 Natasha May
It's time for me to pass the blog baton over to the inimitable Mostafa Rachwani. See you tomorrow!
Indigenous voice a hand of friendship: PM
Prime minister Anthony Albanese has met with the Torres Strait Regional Authority during a visit to Thursday Island today, discussing the Indigenous voice to parliament. He said:
I see this as something that won't just benefit Indigenous Australians, it will benefit all Australians.
Albanese vowed his trip would not be his last to the region as prime minister, and told community leaders he wanted to leave "permanent footprints" and see real change. He said:
That is why it is so important that Australians are given the opportunity to join that hand outstretched which is there in friendship.
The prime minister is set to meet with female community leaders in the Torres Strait on Friday morning during the second day of his visit.
Call for 'Medicare-style' home insurance
A "Medicare-style" approach to home insurance would make the system more equitable as the climate crisis makes premiums unaffordable for many, a Sydney professor says.
AAP reports.
University of NSW political philosophy professor, Jeremy Moss, says Australia urgently needs a new model of home insurance because the current model is "not fit for purpose".
One million Australian households are in extreme insurance stress, with those most vulnerable affected by the growing effect of climate disasters.
The market-based model expects all home-owners to bear the risk of loss. Moss said today:
What we need is a similar approach to making home insurance equitable and affordable that we accept as fundamental to health insurance – in effect a 'Medicare-style' approach to how we structure home insurance options.
We need to make decisions about how much risk individuals should be asked to bear and whether society should allow widespread 'climate disadvantage'
It comes after the release of the NSW government's review into devastating floods that hit the Northern Rivers and Hawkesbury-Nepean regions this year.
One of the 28 recommendations in the report is for the insurance industry to improve its guidelines for the construction of new homes, so that homes built after floods can access cheaper insurance.
In May the Climate Council estimated that 4% of homes will be uninsurable by 2030.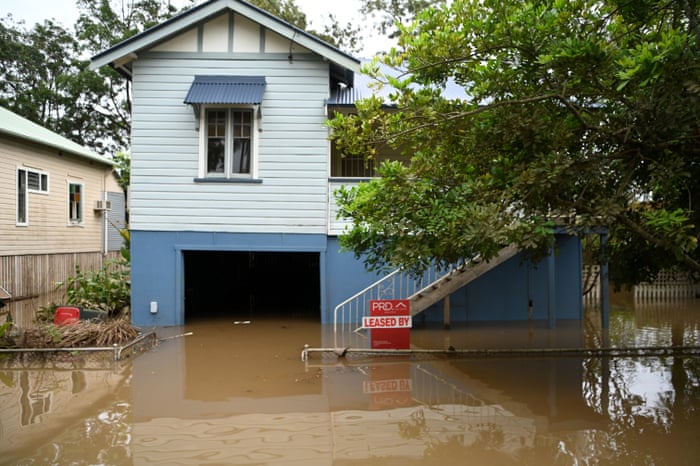 Flooding devastated Lismore and the Northern Rivers area of NSW.
Photograph: Dan Peled/Getty Images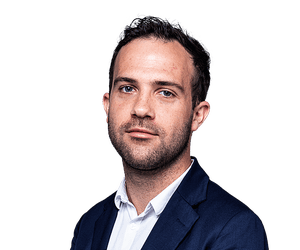 Michael McGowan
Barilaro 'suggested' candidate apply for London trade job, inquiry hears
The head of the hiring company charged with filling a series of controversial trade posts for the New South Wales government says the man hired to fill the London role told her former deputy premier John Barilaro had suggested he apply for the role.
The upper house inquiry probing the appointments resumed on Thursday and is hearing evidence from Dr Marianne Broadbent, a senior partner with recruitment firm NGS Global.
The inquiry, which has until now focused on the now-abandoned appointment of Barilaro to the equivalent role in New York, has shifted its focus to former NSW Business Chamber chief Stephen Cartwright.
The inquiry has previously heard that Cartwright entered the process "late" after another preferred candidate, Paul Webster, had already been identified.
Broadbent told the inquiry that in mid-February she was told at a meeting with the then-head of the treasury department, Jim Betts, that Cartwright had entered a late application for the role
Shortly after, she had a meeting with Cartwright in which, she said, he told her that Barilaro had "suggested to him that he might consider the role".
Cartwright was interviewed for the job and replaced Webster as the preferred candidate.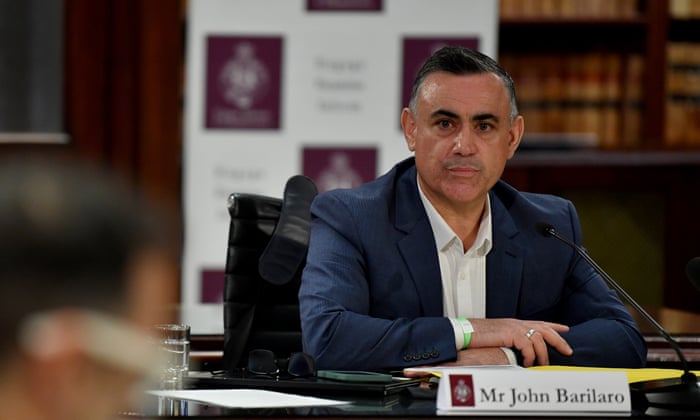 Former NSW deputy premier John Barilaro gives evidence during the inquiry into his appointment as Senior Trade and Investment Commissioner to the Americas.
Photograph: Bianca de Marchi/AAP
Albanese arrives in Torres Strait to "warm welcome"
Freshwater ferries back on Sydney Harbour
Sydney's iconic Freshwater ferries will return to the harbour all week long, less than a year after the first of them were pushed out of daily services, AAP reports.
Transport Minister David Elliott today announced the reintroduction of the ferries to daily operations. Elliott said:
As we head into the warmer months the demand for the F1 services increases and the reintroduction of the Freshwaters gives tourists, ferry enthusiasts and commuters additional travel options between Manly and the city.
The second-generation Emerald-class ferries brought in to replace the Freshwater ferries have been plagued by issues. Cracks were found in hulls, windows shattered on the water, and the ferries struggled to operate safely in high swells, or dock at very low tides.
The reintroduction of the Freshwater ferries to the daily timetable will add an extra 30 services a week from Circular Quay to Manly.
Elliott said that while the second-generation Emerald-class ferries have had their issues, seeing them operate on the harbour side-by-side with the Freshwater ferries "showcases these iconic vessels alongside our modern fleet".
The 'Freshwater', of the Freshwater class of ferries, heads through Sydney Harbour, bound for Manly.
Photograph: Cameron Spencer/Getty Images
New weir for Wilcannia
The town which ran out of water at the height of the drought in 2018, and was forced to truck it in, is set to receive a new weir.
The minister for the environment and water, Tanya Plibersek said the federal government's co-investment with NSW state government in the town of Wilcannia comes after the old weir built in 1942 was no longer able to supply the town with reliable water.
The new weir will improve water flows downstream, while holding some water for community use. It will be a place for the local community to swim, fish, + gather - just as it always has been. Plus, it will create local jobs.
Good for the environment + good for the local economy. pic.twitter.com/GW514TEgop
— Tanya Plibersek (@tanya_plibersek)
August 18, 2022