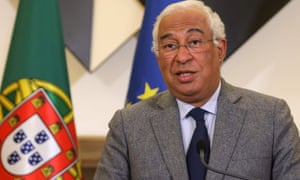 Prime Minister Antonio Costa speaks during a press conference after a Council of Ministers meeting in Sao Bento Palace in Lisbon, Portugal, 18 January 2021. Photograph: Miguel A Lopes/EPA
Stricter lockdown rules are being enacted in Portugal to try and contain the spread of Covid-19 which is pushing hospitals to their full capacities (see earlier posts).
António Costa, the prime minister, said too many people had taken advantage of exceptions included in the lockdown that began last Friday, with authorities reporting 70% of normal movement over the weekend.
"We are going through the most serious phase of the pandemic" so far, Costa said, adding: "This is no time for finding loopholes in the law."
Under the new rules, January sales at stores are to be banned, as are gatherings of any number of people in public areas, while more police will be deployed outside schools, which remain open, to prevent students forming groups.
Travelling between districts is to be prohibited at weekends, with supermarkets and stores having to operate within shorter opening times.