Truss's speech disrupted by environmental protesters
Protesters are disrupting the speech. At least two of them are in the hall shouting, and waving a banner that says Greenpeace on it.
The audience boo. The protesters are taken out.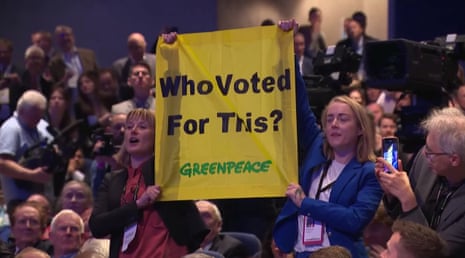 Greenpeace protest
Photograph: Reuters
Key events
Truss claims cutting taxes is right morally and economically
Truss says she and her "dynamic" new chancellor will focus on three things.
First, they will cut taxes. Cutting taxes is the right thing to do, morally and economically. Tax cuts are morally right because it is people's money, and economically right because, with more of their own money, they will do more of what they do best.
She sums up some of the tax cut she has announced.
Tax rates have to be internationally competitive, she says. Cutting taxes shows Britain is open for business.
She says cutting the 45% rate became a "distraction". That is why is is not longer part of the plan.
I get it. And I have listened.
Truss says she has three priorities for economy: 'growth, growth and growth'
Truss makes her argument about needing to grow the pie, "so that everyone gets a bigger slice", not just argue about redistribution. (See 9.13am.)
She says a new approach is needed.
As the last few weeks have shown, it will be difficult.
Whenever there is change, there is disruption. Not everyone will be in favour. But everyone will benefit from the result: a growing economy and a better future. That is what we have a clear plan to deliver.
Truss says she has three priorities for our economy: "growth, growth and growth".
Truss says the energy package was the biggest part of the mini-budget.
She says for too long the economy has not grown fast enough.
She grew up in Paisley in the 1980s, she says. She knows what low growth means. It means lower wages, fewer opportunities and less money to spend on what matters.
And it means the country falling behind other countries, she says.
That is why they need to level up everywhere.
Truss says she is going to talk about the anti-growth coalition later in her speech. She jokes the protesters timed their intervention too early.
Truss's speech disrupted by environmental protesters
Protesters are disrupting the speech. At least two of them are in the hall shouting, and waving a banner that says Greenpeace on it.
The audience boo. The protesters are taken out.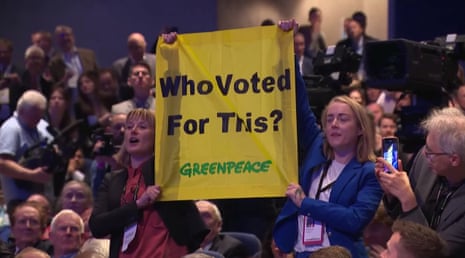 Greenpeace protest
Photograph: Reuters
Truss says she knows what it is like to have to fight for things in life.
She recalls as a child being on a plane and being given a junior air hostess's badge. Her brothers got junior air pilot's badges. It was not the only time she was treated unfairly because of her sex.
And, as a child, she saw other children being let down by low expectations, and by a Labour council more concerned about politics than about children's education.
She is the first prime minister to have gone to a comprehensive school.
(Of course, Truss's account of the flaws with the school she attended has been dismissed as untrue by many people who were there at the time – for example, in this article.)
Truss says this is a vital time. These are stormy days. We mourn the death of Queen Elizabeth, "the rock on which modern Britain was built".
In these tough times, we need to step up. She says she wants to put Britain on a stronger footing.
I believe that you know best how to spend your own money, to get on in life, to realise your ambitions.
That is what conservatism is about.
She says she is not interested in how many two-for-one offers people buy at the supermarket, or in virtual signalling.
(Boris Johnson was going to ban buy-one-get-one-free offers for unhealthy food items.)
Liz Truss is taking the stage now. She gets a standing ovation as she arrives.
She says it is great to be here in Birmingham. It's fantastic to see cranes across the skyline building new buildings, the trams going down the streets, and the bull at the heart of Birmingham.
This is what a city with a Tory mayor looks like. It's positive, it's enterprising, it's successful, and Andy Street is a human dynamo, delivering for the people of Birmingham.
In the video Truss is saying she wants to get rid of the "barriers and blockages" that stop people setting up their own firms.
A video is being shown about Liz Truss. In it she is talking about growing up in Leeds and going to a comprehensive school.
She says, when she saw that people might have to pay £6,000 for fuel, she thought that was not right.
It was right to take a decision to avoid that, she says.
And she says she needs to ensure energy security for the future too.
Liz Truss addresses conference with new YouGov polling showing her already less popular than Boris Johnson or Jeremy Corbyn ever were.
At the conference cabinet members are now taking their seats in the hall.
We are now waiting to Liz Truss to start – unless there is a surprise speaker coming on to introduce her.
Zahawi lists a string of other cabinet ministers, saying they are all delivering too.
And when they do deliver, "we will blow Labour out of the water", he claims.
Zahawi says Liz Truss is the third female prime minister, and the third female Conservative PM. He goes on:
Labour – all talk, but all we see is trousers.
He goes on to talk about how Truss works in the cabinet room, at the cabinet table, surrounded by papers.
Our new prime minister has total clarity of what she wants. Se has the laser-like focus that is a prerequisite of a great CEO. And, crucially, she knows her own mind.
Zahawi says Truss has told him what she wants to deliver. And he says he is overseeing that "effectively as the chief operating officer of this administration".
(Others in the cabinet might not be so happy about the promotion Zahawi seems to have awarded himself.)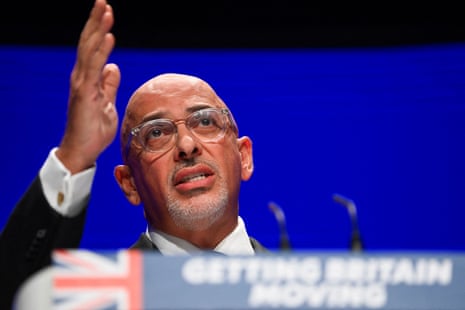 Nadhim Zahawi.
Photograph: Toby Melville/Reuters
Nadhim Zahawi, the Cabinet Office minister, is speaking now. He started by recalling being called a "race traitor" at university when he refused to join a leftwing group. He responded by joining the Conservatives, he said, and he said he was hooked on politics from that moment.
Liz Truss to address Tory conference
Liz Truss is about to deliver her first speech as leader, and prime minister, to the Conservative party conference. There are some in the party who also think it could be last; some of her critics have been speculating that she could be forced out by Christmas, because her first month in power has gone so badly, although it is hard to imagine a party ditching a leader so quickly.
Normally a leader's speech at conference last for around 50 minutes. We have been told this one will be about half that long, coming in at around 20 to 30 minutes.
According to an extract released in advance, she is going to double down on her commitment to change an reform, telling members that this will bring "disruption" too. (See 9am.)
In Birmingham the concerence proceedings have started, and Jake Berry, the party chair, is speaking.
He starts by paying tribute to Liz Truss as a leader who delivers, and does what she promises.
He says that Truss promised to tackle energy prices and she promised to reverse the national insurance increase. Did she deliver? Yes.
He goes on:
There you have it. Conference will fondly remember another great female prime minister who like to say to the EU, "No, no, no." Watch out Sir Humphrey. You've just got the "Yes, yes, yes" prime minister.
(If Berry had remembered the scene from When Harry Met Sally, or Molly Bloom's soliloquy, he might have phrased that differently.)